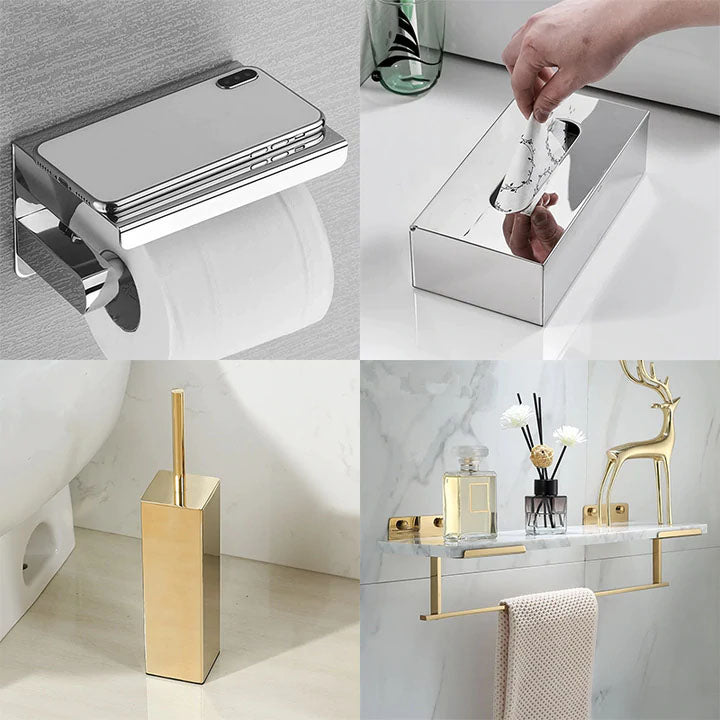 Shop New Trends In Contemporary Bathroom Fixtures & Fittings
Shop for the latest trends in contemporary bathroom fixtures and fittings, modern shower shelving, luxury towel racks and essential washroom accessories. 
House.Boutique bring you an essential collection of stylish modern accessories for your contemporary bathroom or washroom. Featuring clean lines, minimalist form and finished in the most stylish and durable of materials such as space aluminium, black, gold and silver stainless steel - our luxury Bathroom Accessories are sure to impress your family and guests.
Browse our range of bathroom fixtures & fittings today, shop for popular items such as shower racks, matte black stainless steel bathroom fittings, black aluminum bathroom accessories and minimalist stainless steel bathroom shelving (ideal for storing cosmetics, shampoo, lotions etc).
New for 2022 are our collections of luxury bathroom accessory kits (Including liquid soap dispensers, toothbrush holders, gargle cups, soap dishes etc) available in gray granite, Italian terrazzo and white marble effect finishes, and an essential collection of elegant liquid soap pump dispensers and stylish matching liquid cosmetics dispensers, perfect for placing on your new bathroom shelf.